Warning
: "continue" targeting switch is equivalent to "break". Did you mean to use "continue 2"? in
/home/bstep754/public_html/blog/inc/plugins/model/_plugins_admin.class.php
on line
1467
It is a collage which, in my opinion, goes a little further in my research. That's why it deserves a few lines.
The right-hand part shows a famous war picture which I extracted from the famous Kriegsfibel (B.Brecht, 1955), which I found in the few books collected from my brother, and which I combined with a panorama of the Himalayas. Wanting to glue the left side (a mountain), I turned it over and immediately saw that this one was much more interesting by its tormented, stony character. The result was relatively easy: the ascent of the left part echoes the bodies fallen to the right. The gigantism of the character who scrutinizes me with the characters melting into chaos and so on. Why this character who raises his sunglasses? Initially, the figure was seen from behind. It is a contradictory movement that I often use. Is it to express the lack of coherence of our actions, the head pretending to govern the body that does as it pleases? The result seems to me to be the inability to really advance. As for the "chaos" that reigns in the mountains, it sends me back, now, after the creation of this image, to the earthquakes that have raged in this region. Preparing my participation in a collective exhibition at Listrik, Montreux, on the theme of the world today, I once again ask myself the question of the subject in art, knowing how little influence a work of art can exert on people. As I explained earlier, the choice to devote myself to collage was determined by the desire to "stick" to reality while pursuing the quest for art. But I'm not an activist-propagandist, because it would mean a simplification of the message. They are rather dream images with a few keys for those who want to spend more than the few seconds usually devoted to images on the internet. It is therefore an invitation to open your eyes, to look better (back?) And to think - to stop to try to see better.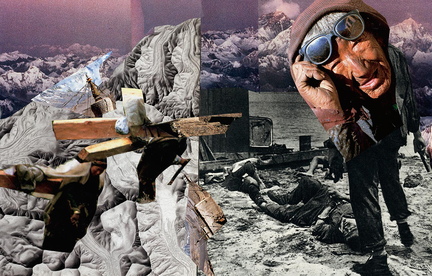 C'est un collage qui, à mon avis, va un peu plus loin dans mes recherches. C'est pourquoi il mérite quelques lignes.
La partie de droite montre une célèbre photo de guerre que j'ai extraite du fameux Kriegsfibel (B.Brecht, 1955),  que j'ai trouvé dans les quelques livres récupérés chez mon frère, et que j'ai combiné avec un panorama de l'Himalaya. En voulant coller la partie gauche (une montagne), je l'ai retournée et j'ai immédiatement vu que celle-ci était bien plus intéressante par son caractère tourmenté, pierreux. La suite a été relativement facile : l'ascension de la partie gauche fait écho aux corps tombés à droite. Le gigantisme du personnage qui me scrute avec les personnages se fondant dans le chaos etc.  Pourquoi ce personnage qui soulève ses lunettes de soleil ?  Initialement, le personnage était vu de dos. C'est un mouvement contradictoire que j'utilise souvent. Est-ce pour exprimer le manque de cohérence de nos actes, la tête prétendant gouverner le corps qui n'en fait qu'à sa guise ? Le résultat me semble être l'incapacité de vraiment avancer. Quant au « chaos » qui règne dans la montagne, il me renvoie, maintenant, après la création de cette image, aux tremblements de terre qui ont sévi dans cette région. Préparant ma participation à une exposition collective à Listrik, Montreux, sur le thème du monde actuel, je me pose encore une fois la question du sujet dans l'art, sachant le peu d'influence qu'une œuvre d'art peut exercer sur les gens. Comme je l'ai déjà expliqué plus tôt, le choix de me consacrer au collage a été déterminé par le désir de « coller » à la réalité » tout en poursuivant la quête de l'art. Mais je ne suis pas un activiste-propagandiste, car cela signifierait une simplification du message. Il s'agit plutôt d'images oniriques comportant quelques clés pour celui qui veut bien y passer davantage que les quelques secondes habituellement consacrées aux images sur internet. Il s'agit donc d'une invitation à ouvrir les yeux, à mieux regarder (en arrière ?) et à réfléchir – à faire halte pour essayer de mieux voir.