Warning
: "continue" targeting switch is equivalent to "break". Did you mean to use "continue 2"? in
/home/bstep754/public_html/blog/inc/plugins/model/_plugins_admin.class.php
on line
1467
This year, I feel that I do nothing else than collage. At the rate of two a day, I do not have much time to do anything else. Collages accumulate to the point that I have to find new storage space. The positive in this is that I have to make some order, the negative is that I wonder what this amount of collages will become later. I still don't achieve the supreme detachment taught by the wise, but I have to do something because I don't want to leave with this question in mind.
What good is all this? Why this frenzy?
The simplest explanation is this: as I had to work for a living, I catch up now.
But that's not satisfying. There is something else. Maybe my collage can tell me that. Let's take a closer look:
- Dear collage 482/16 humorously titled "Promettez"*, what is the secret of my obsession to assemble bits of images?
- You got a gift, you have to make it grow.
- Okay, but at this rate, is it necessary?
- I think there are many questions that are running through your head. This seems to be a way to view them.
- You think of M's cancer?
- Yes, among others. And also of your own mortality, your new physical impairments, such as very short dizziness, your soreness after gardening, your skin            becoming so fragile that you wear still the mark of January's catheter, not to mention light tone tinnitus. Do you want me to quote some more?
- No, thanks, that's enough for now. You mean I feel my death coming closer and that this moves me inside?
- Yes, of course. Moreover, you wonder how to express your relationship to the outside world, how define yourself by it. You're probably relatively unsuitable, you      have always preferred dream to reality.
- If I understand you well, I take refuge in my daydreams?
- Yes that's right. But you have the right to rest a little. Fear not, your imagination will not dry up (it's over).
- I thank you and I will try to do as you think.
·         = Prométhée in French = Prometheus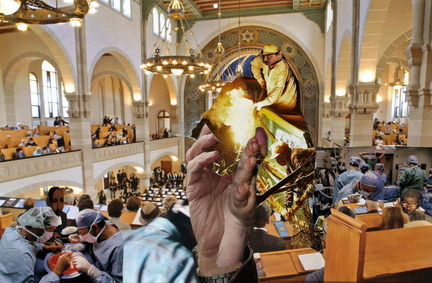 Cette année, j'ai l'impression de ne faire que du collage. Au rythme de 2 par jour, il ne me reste pas beaucoup de temps pour faire autre chose. Et les collages s'accumulent, au point que je dois trouver de nouveaux espaces de stockage. Le positif dans cela,  c'est que je suis obligé de faire de l'ordre, le négatif, c'est  que je me demande ce que cette quantité de collages va devenir. Je n'arrive pas encore au suprême détachement enseigné par les sages, mais il faudra que je m'y mette pour ne pas partir avec cette question à l'esprit.
A quoi bon tout cela ? Pourquoi cette frénésie ?
L'explication la plus simple est la suivante : comme j'ai dû travailler pour gagner ma vie, je me rattrape maintenant.
Mais j'ai de la peine à m'en satisfaire. Il y a autre chose. Peut-être que mon collage peut me renseigner là-dessus. Voyons cela de plus près :
-          Cher collage  482/16  intitulée humoristiquement « Promettez », quel est donc le secret de mon obsession à assembler des bouts d'images ?
-          Tu as reçu un don, tu dois le faire fructifier.
-          D'accord, mais à ce rythme, est-ce nécessaire ?
-          Je crois qu'il y a beaucoup de questions qui se bousculent dans ta tête. Cela semble être une manière de les visualiser.
-          Tu penses au cancer de M. ?
-          Oui, entre autres. Et aussi à ta propre mortalité, à tes nouvelles déficiences physiques, comme par exemple  des vertiges très brefs, tes courbatures  après le jardinage, ta peau devenue si fragile que tu portes encore la marque du cathéter de janvier, sans parler de ton léger acouphène. Tu veux que je t'en cite d'autres ?
-          Non, de grâce, cela me suffit pour le moment. Tu veux dire que je sens ma mort se rapprocher et que cela me remue intérieurement ?
-          Oui, bien sûr. Par ailleurs, tu te demandes comment exprimer ton rapport au monde extérieur, comment tu te définis par lui. Tu es sans doute relativement inadapté, tu as toujours préféré le rêve à la réalité.
-          Si je te comprends bien, je me réfugie dans mes rêves éveillés ?
-          Oui, c'est cela. Mais tu as le droit de te reposer un peu. N'aie pas peur, ton imagination ne va pas se tarir (c'est du passé).
-          Je te remercie et je tâcherai de faire  selon ton avis.