Warning
: "continue" targeting switch is equivalent to "break". Did you mean to use "continue 2"? in
/home/bstep754/public_html/blog/inc/plugins/model/_plugins_admin.class.php
on line
1467
Ce collage est le fruit d'une longue lutte pour obtenir une image cohérente. Je suis parti de trois femmes assises dont on voit encore des fragments dans l'image finale. Ayant commencé la veille, j'ai bouleversé la composition le lendemain en insérant les poissons et les gens prenant le soleil sur les rochers.  Ces deux motifs me semblent indiquer, à la fois formellement et au niveau de l'impression, qu'il s'agit d'objets jetés là par les vagues, comme on peut le voir sur certaines plages polluées. Le plan supérieur gauche montre une nature plus intacte, mais dévorée par le monstre à tête de poisson qui est une réminiscence des créatures infernales de J. Bosch. Les gens au soleil sont comme des moutons, ils ont les yeux fermés ignorant ce qui se passe de l'autre côté. Et la figure centrale pousse un cri muet, elle est comme ces poissons morts qui ont la gueule ouverte.
Ce n'est évidemment pas un collage très léger, pourtant j'éprouve une grande satisfaction à le contempler. Peut-être parce que j'ai l'impression d'avoir réuni ici la tradition picturale classique et une vision moderne, désenchantée, du monde. Heureusement que les parties hautes apportent de la sérénité et un espoir de pérennité, sinon on se trouverait réellement en enfer.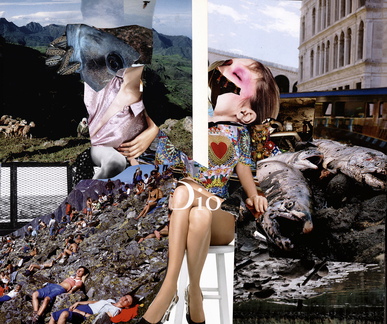 This collage is the result of a long struggle to obtain a coherent image. It started with three seated women whose fragments are still visible in the final image. Having begun the day before, I upset the composition the next day by inserting the fish and the sunbathers on the rocks. These two motives seem to indicate, in my view, both formally and at the level of the impression, that they are objects thrown there by the waves, as one can see it on certain polluted beaches. The upper left plan shows a more intact nature but devoured by the fish-head monster that is reminiscent of H. Bosch's infernal creatures. The people on the rocks are like sheep, their eyes are closed, they do not know what's happening on the other side. And the central figure utters a mute cry, she's like those dead open-mouthed fishes.
It is obviously not a very light collage; however, I feel a great satisfaction to contemplate it. Perhaps because I have the impression of having gathered here the classic pictorial tradition and a modern, disenchanted vision of the world. Fortunately, the high parts bring serenity and hope for sustainability, otherwise we would really be in hell.