Warning
: "continue" targeting switch is equivalent to "break". Did you mean to use "continue 2"? in
/home/bstep754/public_html/blog/inc/plugins/model/_plugins_admin.class.php
on line
1467
Patchwork
Must we always explain our creations? I have little time or inclination to do so, except when it becomes urgent.
Here is a confused looking collage at first view because it uses Dali's technique of hallucination as a double view. In this image, a peaceful family is seen in the lower part which extends to the oversized character of the top. It is a Black and whose crying disturbs this idyllic scene. It is obviously an evocation of slavery: Whites are idle, they enjoy their comfortable situation. With one exception: the milking of the cow in the lower left corner, referring to the serfs?
By adopting a different point of view, it could be the nostalgic contemplation of a mythical past (the good old days), where man was supposed to live in harmony with the earth. It is true that many paintings of Poussin, Constable or the Impressionists have cultivated this fable.
What I consciously expressed in this picture is the ratio between stability and instability. The figure of the Black appeared to me towards the end, when I asked myself what was missing in the picture. And the head in profile, like that of the man sitting, could then be the close up of this man whose head is only partially visible, as if hovering above this idyll in the manner of a spirit. As for the milk, it makes me to think of Paul Celan: "Black milk of dawn ..." in his Death Fuge. Et in Arcadia ego ... to stay with Poussin.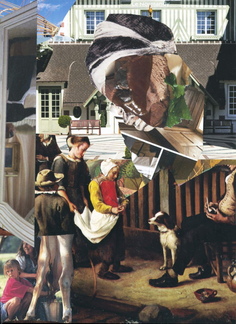 Faut-il toujours expliquer ses créations ? Je n'en ai guère le temps ni l'envie, sauf quand cela s'impose à moi.
Voici donc un collage à priori confus car empruntant la technique dalinienne de l'hallucination sous forme de double vue. Dans cette image, on voit une paisible famille dans la partie inférieure dont certaines parties prolongent le personnage surdimensionné de la partie supérieure. C'est un Noir qui pleure et qui perturbe cette scène idyllique. Il s'agit évidemment d'une évocation de l'esclavage : les Blancs sont oisifs, ils jouissent de leur situation confortable. A une exception près : la traite de la vache dans le coin inférieur gauche, allusion aux serfs ?
En adoptant un autre point de vue, il pourrait s'agir de la contemplation nostalgique d'un passé mythifié (le bon vieux temps), où l'homme était censé vivre en harmonie avec la terre. Il est vrai que bien des peintures, de Poussin à Constable, voire les Impressionnistes ont cultivé cette fable.
Ce que j'ai consciemment exprimé dans cette image, c'est le rapport entre stabilité et instabilité. La figure du Noir ne m'est apparue que vers la fin, lorsque je me suis demandé ce qui manquait. Et cette tête, de profil, comme celle de l'homme assis, pourrait alors être le gros plan sur cet homme dont la tête n'est que partiellement visible, comme s'il planait au-dessus de cette idylle à la manière d'un esprit. Quant au lait, il me fait penser au vers de Paul Celan : « Lait noir de l'aube... » dans sa Fuge de mort. Et in Arcadia ego... pour rester avec Poussin.