Warning
: "continue" targeting switch is equivalent to "break". Did you mean to use "continue 2"? in
/home/bstep754/public_html/blog/inc/plugins/model/_plugins_admin.class.php
on line
1467
I always thought that there was the word dio = god in the acronym DIOR. I've played with it in the collage that adorns the book of  Robert H. Frank (where we erased the letters IOR for copyright reasons). Here is a new, more explicit version, since there is the figure of a pope in this collage.
That came to me spontaneously, because the sitting person lacked strong sense, my wife had given me old post cards, some with John Paul II on them, I tapped into this pool while thinking of Bacon's popes. This also explains the image of the monkey, which refers to a painting of a paralytic child by Bacon. Here the pope is an oriental figure who laughs. I think of those Islamists who invoke religion to commit their heinous crimes and what allows Putin to lie through his teeth as using false values to be worshiped. Even the current pope seems more «internet » than sincere. It is regrettable that no beyond threatens the media pseudo-popes with punishment. Accessories like bags are just there to illustrate the joy of possession. The woman walking on her high heels comes and goes - as I hope all this will.
With these collages, I find myself becoming preachy, which is not my goal. Rather, I want to make think and to rejoice in the art I try to imprint on all my images. But my great example has always been Goya's Disparate. Visiting the new floor at the Städel museum in Frankfurt has also certainly reinforced this trend given the highly critical paintings of German postwar artists that I sense - despite my emigration at the age of 19 - close enough.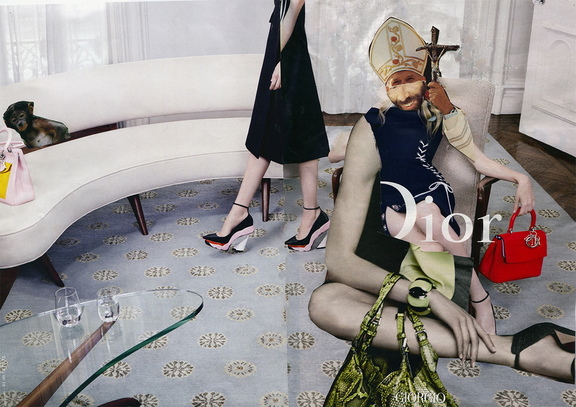 J'ai toujours pensé qu'il y avait le mot dio = dieu dans le sigle DIOR. J'ai déjà joué avec cela dans le collage qui orne le livre de Robert H. Frank mais dont les lettres IOR ont été gommées pour des raisons de droits ). Voici donc une nouvelle version encore plus explicite, puisqu'il y a la figure d'un pape dans ce collage.
Cela m'est venu spontanément, car la personne assise manquait de sens affirmé, ma femme m'a donné de vieilles carte postales, certaines avec Jean-Paul II, j'ai puisé dans ce vivier tout en pensant aux papes de Bacon. Cela explique aussi l'image du petit singe qui renvoie à l'enfant paralytique d'un tableau de Bacon. Ici, le pape est une figure orientale qui rigole. Je pense à ces islamistes qui invoquent la religion pour commettre leurs crimes abominables et à Poutine qui se permet de mentir comme un arracheur de dents en utilisant de fausses valeurs pour se faire adorer. Même le pape actuel me semble plus médiatique que sincère. Il est à regretter qu'aucun au-delà ne menace ces pseudo-papes médiatiques. Les accessoires comme le sac ne sont là que pour illustrer le goût de la possession. La femme qui marche sur ces hauts talons ne fait que passer – comme tout cela j'espère.
Avec de tels collages, je me surprends à devenir moralisateur, ce qui n'est pas mon but. Je veux plutôt donner à penser et à se réjouir du tour de main artistique que j'essaie d'imprimer à toutes mes images. Mais mon grand exemple a toujours été le Goya des Disparates. La visite du nouvel étage du Städel de Frankfurt a par ailleurs sûrement renforcé cette tendance au vu des tableaux très critiques des artistes allemands d'après-guerre dont je me sens- malgré mon émigration à 19 ans, assez proche.