Warning
: "continue" targeting switch is equivalent to "break". Did you mean to use "continue 2"? in
/home/bstep754/public_html/blog/inc/plugins/model/_plugins_admin.class.php
on line
1467
I want to talk about a collage that eludes my immediate understanding. If I was a bad pun, I would call it "kick butt " , referring to the cross wielded by the man. The departure of the collage is the plump ass of Serena Williams. It is so round and plump that I have censored it with a pair of scissors, which made them more natural. The picture of her waiting for the adverse service made me imagine her falling. Yes, but the cause of this fall? Fortunately, there was this masked player which I also reduced by a even bolder snip, rendering him alike to the disabled Olvidados of Buñuel. I wanted it to boot this big behind, but the baseball bat (gravelly words game in French) seemed too sporty. I preferred the crucifix as a weapon, thinking about what is happening in Bamako.
So if now I presume that the dreamer is embodied in all the characters of the dream , according to Freud , what is my part in these characters?
For the sadistic batter, it seems relatively easy, people can testify , I guess. What intrigues me is that the male body seems incomplete. It is only violence of arms, torso, but the lower body is missing or hidden, unless it merges with the woman.
The latter seems to crash on the tarmac with a huge smile; as if it was just a game. Its powerlessness - despite its equally powerful body - is obvious, because it lacks arms. And both are on a platform with rolling wheels. Where to?
Is this a religious painting, as Caravaggio's Conversion of Paul? This would be the key moment of this moment, with the white ball suspended in the air would figure the Spirit?
Hm, I drift , I'm rambling, the collage remains obscure and rejects any interpretation, no childhood memory comes to enlighten me , I've never been beaten by adults - with the exception of religious Protestant Dutch women who made of me their scapegoat . Ah! The mystery of the stick seems to me less mysterious! But it remains curious that the persecutor is male in this picture, it does not definitely fit into the picture.
I give up, the work constantly eludes me, and I, its so-called author, once again am experiencing the feeling of being a sheer medium and that the true author continues to draw his threads without deigning to appear in the light or tell me what he has in mind.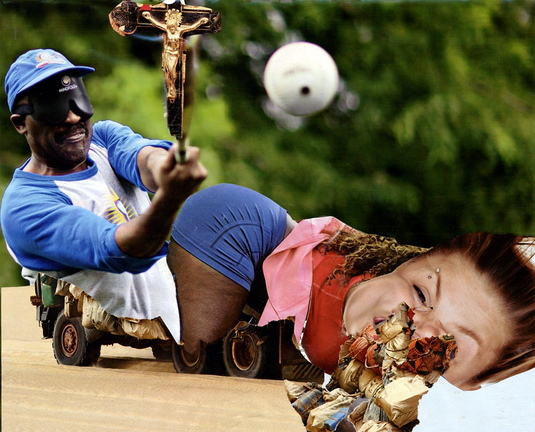 For a bigger picture, click here.
La dérobade
J'ai envie de parler d'un collage qui se dérobe à ma compréhension immédiate. Si je faisais un mauvais jeu de mot, je l'appellerais « Coup de crosse », en faisant allusion à la croix brandie par l'homme. Le collage est parti des fesses rebondies de Serena Williams. Elles sont si rondes et rebondies que je les ai censurées d'un coup de ciseaux, ce qui les a rendues plus naturelles.  La photo de son attente du service de l'adversaire m'e l'a fait imaginer tombant. Oui, mais la cause de cette chute ? Heureusement qu'il y avait ce joueur masqué que j'ai également réduit d'un coup de ciseaux encore plus hardi, le rendant semblable  au handicapé des Olvidados de Buñuel. J'ai voulu qu'il botte ce gros derrière, mais la batte de baseball (jeu de mots graveleux en français) me semblait trop sportive. J'ai préféré le crucifix comme arme, pensant à ce qui se passe en à Bamako.
Si maintenant je présume que le rêveur se trouve incarné dans tous les personnages du rêve, selon Freud, quelle est ma part dans ces  personnages ?
Pour le sadique, cela semble relativement facile, des gens pourront en témoigner, je suppose. Ce qui m'intrigue, c'est que le corps masculin semble incomplet. Il n'est que violence des bras, du torse, mais le bas du corps manque ou est masqué, à moins qu'il ne se confonde avec celui de la femme.
Cette dernière  semble s'écraser sur le macadam avec un immense sourire, comme si ce n'était qu'un jeu. Son impuissance  - malgré son corps également puissant - est manifeste, car elle manque de bras. Et tous les deux se trouvent sur une plateforme à roues qui avance.
Est-ce un tableau religieux, comme la conversion de Paul du Caravage? Ce serait alors le moment-clef de ce moment, où la boule blanche suspendue en l'air figurerait l'esprit ?
Je dérive, je délire, le collage reste obscur et refuse toute interprétation, aucun souvenir d'enfance ne vient éclairer ma lanterne, je n'ai jamais été battu par des adultes – à l'exception de religieuses protestantes hollandaises qui avaient fait de moi leur souffre-douleur. Ah ! Le mystère de la crosse me semble tout d'un coup moins mystérieux! Mais il demeure curieux que le persécuteur soit masculin  dans cette image, cela ne colle décidément pas.
J'abandonne, l'œuvre se dérobe sans cesse et moi, son soi-disant auteur, éprouve encore une fois le sentiment de n'être qu'un médium et que le vrai auteur continue à tirer ses fils sans daigner apparaître dans la lumière ni m'informer de ce qu'il a en tête.