Warning
: "continue" targeting switch is equivalent to "break". Did you mean to use "continue 2"? in
/home/bstep754/public_html/blog/inc/plugins/model/_plugins_admin.class.php
on line
1467
L'un part, l'autre reste, deux personnages défaits. A droite le désert, à gauche un spectacle inquiétant. Est-ce que l'on emporte un bout de sa patrie avec soi quand on s'exile ? Cela peut être lourd à porter, même aveugler. Et pourtant, il avance.  
J'avance parce que derrière moi, il n'y a que du désert. Je pars vers autre chose.
Et moi, je reste à cause du désert où je suis enraciné. Je fais partie du paysage, je ne peux pas m'en extraire. Seul mon esprit voyage.
Plus je regarde cette image, plus elle me trouble. Elle me fait penser à la mort sans que je puisse savoir comment j'arrive à cette idée. Peut-être que l'aspect fragmentaire des personnages en est la cause ? Les petits personnages qui semblent partir au loin ? Le sol qui se dérobe ?
Et si c'était le même personnage dédoublé ? Ce qui reste en arrière serait donc le fantôme de la vie ancienne qui reste figé comme tout souvenir et qui reste muet.
Cette image est importante pour moi. Elle me rappelle mes propres départs.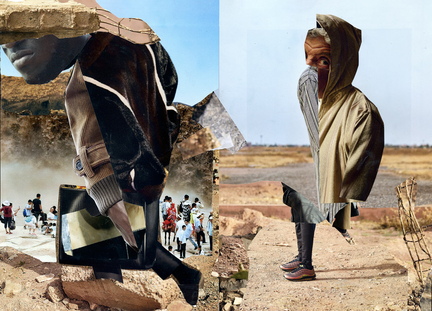 One leaves, the other remains, two defeated characters. On the right the desert, on the left a disturbing sight. Do we take a piece of our country with ourselves when we go into exile? This can be cumbersome to wear, even dazzling. And yet, he advances.
I go forward because behind me there is only desert. I'm going to something else.
And I remain because of the desert where I am rooted. I'm part of the landscape, I cannot get away from it. Only my mind travels.
The more I look at this image, the more it troubles me. It makes me think of death without knowing how I get to this idea. Perhaps the fragmentary aspect of the characters is the cause? The little characters who seem to go away? The soil that slips away?
What if it was the same dual character? What remains behind would be the phantom of the old life which remains frozen like all memory and remains mute.
This image is important to me. It reminds me of my own departures.