Warning
: "continue" targeting switch is equivalent to "break". Did you mean to use "continue 2"? in
/home/bstep754/public_html/blog/inc/plugins/model/_plugins_admin.class.php
on line
1467
C'est une image d'apparence simple au premier regard, puisqu'elle part d'une photo de mode figurant un homme et une femme. A y regarder de plus près, je constate que, sans sa tête explicitement féminine, le corps lui-même est sexuellement neutre, ce que je n'avais pas vu consciemment en commençant le collage. Mais en y mettant une tête nettement masculine, l'ambiguïté sexuelle devient apparente. Cette tête elle-même est une composition hybride à partir de fruits, de champignons etc. C'est pourquoi elle s'allie si bien à ce corps androgyne. L'autre personnage n'est là que pour renforcer l'énigme : que fait-il là ? Quelle est sa relation à ce personnage hétéroclite souriant malgré sa condition éphémère (les fruits vont se détériorer) ? Mais, malgré tout, point de gravité ici, au propre comme au figuré, l'image reste sereine. Sans doute aussi parce que je fais des transitions moins abruptes dans mes compostions, ce que j'évitais dans le passé par peur d'aboutir à une image surréaliste, je voulais rester disruptif, à l'instar du cubisme, ne pas faire une image « léchée » à la Dali dont l'esthétique traditionnelle ne me convient pas pour mes collages. Ici, malgré des cassures, mais  grâce à des transitions moins heurtées, l'image séduit le regard pour l'éconduire et l'inviter à explorer différents aspects de la composition, comme l'espace, les rapports de grandeur, la psychologie des personnages, le jeu des transitions etc.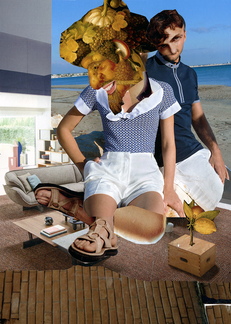 http://stephanus.com/_data/i/galleries/2017/159-xx.jpg
It is an image, at first look, of simple appearance, since it starts from a fashion photograph depicting a man and a woman. Looking closer, I find that without its explicitly feminine head, the body itself is sexually neutral, which I had not consciously seen when starting the collage. But by putting a clearly masculine head on it, sexual ambiguity becomes apparent. This head itself is a hybrid composition from fruits, mushrooms and so on. That is why it is a good match to this androgynous body. The other character is there only to reinforce the riddle: what is he doing there? What is his relation to this heterogeneous character who is smiling despite his ephemeral condition (the fruits will deteriorate)? But, despite everything, there is no seriousness here, in the proper as in the figurative, the image remains serene. Without doubt also because I make less abrupt transitions in my compositions, which I avoided in the past for fear of arriving at a surrealist image, I wanted to remain disruptive, like Cubism, not to make a glossy picture à la Dali whose traditional aesthetics does not suit me for my collages. Here, despite breaks, but thanks to less brutal transitions, the image seduces the eye in order to discourage it and invite it to explore different aspects of composition, such as space, relationships of size, psychology of the characters, the play of transitions, etc.