Warning
: "continue" targeting switch is equivalent to "break". Did you mean to use "continue 2"? in
/home/bstep754/public_html/blog/inc/plugins/model/_plugins_admin.class.php
on line
1467
I feel like a gardener who looks after the tradition of painting and without chemistry! And sometimes weed insinuate themselves among the flowers – for the better!
So this collage based on a Van Gogh painting. The gardener is very old because he embodies the long history of painting and this before an impressionistic background. Behind him, a Malevich peasant stands as a reminder of the quarrel between figuration and abstraction, the latter pretending to be progressive, consistent with modernity and revolution. There have been anathema against figurative art. This art has been banned from exhibitions in the 50-60ies, but fortunately this wall of oppression has not kept! Because what counts in my opinion, is the joy of creating freely and to circumvent rules and dogmas. Accept them means to restrict oneself. It is like obeying a diffuse authority consisting of some "experts". I doubt that submission is an artistic value in any field of art . To me it looks like a French garden, made without fantasy and giving the impression of sterility. And it hardly calls for the enjoyment of the premises, evidenced by the rooms devoted to conceptual art!
In my garden I'm trying to experiment with new associations while drawing inspiration from past successes and inviting the visitor to a fun and rewarding walk. Besides, my gardener turns both to the past and the future of art.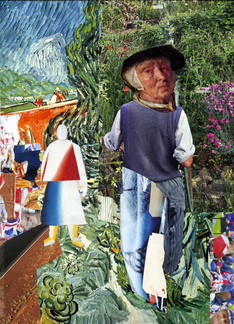 Je me sens comme un jardinier qui soigne la tradition de la peinture et cela sans chimie ! Et il arrive que de mauvaises herbes s'insinuent parmi les fleurs – tant mieux !
Ainsi ce collage parti d'un tableau de Van Gogh. Ce jardinier est très vieux, car il incarne la longue histoire de la peinture et ce devant un fond impressionniste. Derrière lui, une paysanne de Malevitch comme rappel de la querelle entre figuration et abstraction, cette dernière se voulant progressiste, en accord avec la modernité et la révolution. Il y a eu des anathèmes contre l'art figuratif. Cet art a été mis au ban des expositions durant les années 50-60, mais heureusement, cette chape de plomb n'a pas tenu ! Car ce qui compte, à mon avis, c'est la joie de créer en toute liberté et de contourner les règles, les dogmes. Les accepter, c'est se restreindre. C'est obéir à une autorité diffuse composée de quelques « experts ». Je doute fort que la soumission soit une valeur artistique dans quelque domaine de l'art que ce soit. Pour moi, cela ressemblerait à un jardin à la française, fait sans fantaisie et donnant l'impression de stérilité. Et cela n'invite guère à la jouissance des lieux, en témoignent les salles consacrées à l'art conceptuel !
Dans mon jardin à moi, j'essaie d'expérimenter de nouvelles associations tout en m'inspirant des réussites passées et en invitant le visiteur à une promenade ludique et enrichissante. Du reste, mon jardinier est tourné à la fois vers le passé et vers le futur de l'art.