Warning
: "continue" targeting switch is equivalent to "break". Did you mean to use "continue 2"? in
/home/bstep754/public_html/blog/inc/plugins/model/_plugins_admin.class.php
on line
1467
Ce dernier collage a été long et difficile à composer. De la composition initiale, il ne subsiste que la bande centrale bleue, tout le reste a été recouvert. Pourquoi ?
Collage: Tu n'avais pas d'idée claire au départ.
Moi : C'est toujours ainsi.
Collage: Mais non, car d'habitude tu as un éclair d'inspiration, le reste suit.
Moi : C'est vrai, mais je cherche encore plus à décomposer l'espace en ce moment.
Collage: Voilà pourquoi tu risques l'incohérence. C'est un équilibre difficile à trouver.
Moi : C'est surtout une idée qui tient l'ensemble de la composition qui doit émerger. Et c'est plus long à venir. Je me demande si je ne devrais pas faire le collage sur deux jours au lieu d'un seul. Pour cette image, je l'ai laissée durant quelques heures au repos. Ça allait mieux après cette pause.
Collage: C'est à essayer. Il faut dire aussi que le format A3 est plus exigeant, car plus grand. Mais le résultat en vaut la peine. J'aime bien l'idée des larmes qui se transforment en fleurs.
Moi : Oui, c'est venu tout à la fin, j'en suis très content. C'est un élément féérique dans toute cette misère. Du coup, on a l'impression que les ruines se muent en lumière.
Collage: Allez, courage l'artiste. Et que ta maxime d'un collage par jour ne t'oblige pas à finir ton collage trop vite – tu peux toujours  faire une photo à la place !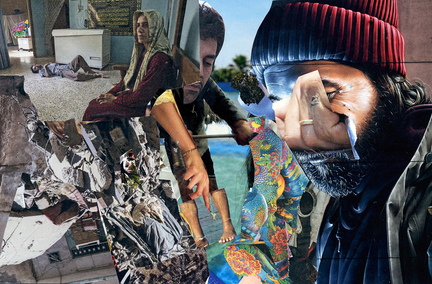 This last collage was long and difficult to compose. Of the initial composition, only the blue central band remains, all the rest has been covered. Why?
Collage: You had no clear idea at the start.
Me: That's always the way it is.
Collage: But no, because usually you have a flash of inspiration, the rest follows.
Me: That's true, but I'm looking for even more to decompose space at this time.
Collage: That's why you risk inconsistency. It is a difficult balance to find.
Me: It is above all an idea that holds the whole composition that must emerge. And it's longer to come. I wonder if I should not do the collage on two days instead of just one. For this image, I left it for a few hours at rest. It was better after this break.
Collage: Good idea. It should also be said that the A3 format is more demanding, because larger. But the result is worth it. I like the idea of tears that turn into flowers.
Me: Yes, it came all at the end, I'm very happy. It is a magical element in all this misery. As a result, one has the impression that the ruins are turning into light.
Collage: Go, courage the artist. And that your maxim of a collage a day does not oblige you to finish your collage too fast - you can always take a picture instead!