Warning
: "continue" targeting switch is equivalent to "break". Did you mean to use "continue 2"? in
/home/bstep754/public_html/blog/inc/plugins/model/_plugins_admin.class.php
on line
1467
A première vue, c'est un collage un peu nostalgique : une silhouette se découpe sur le fond comme le fantôme d'un amour – à moins qu'elle évoque une présence... Et ce lapin bleu qui porte ostensiblement cette déclaration imprimée sur son sac : love me tender – sans doute une citation de la chanson d'Elvis qui est une demande d'amour. Il a la tête dans les nuages et ses yeux sont tournés vers l'intérieur. De toute façon, l'amour est aveugle et les souvenirs vagues. Heureusement, il y a ce personnage ricanant qui moque ces chansonnettes !  Reste la promesse d'une éclosion future, d'une nouvelle histoire figurée par les œufs. Ce qui est drôle ici, c'est que mes condisciples m'appelaient Bunny après avoir lu un texte anglais ayant pour héro un lapin – j'avis 8-9 ans – sans doute à cause de la ressemblance entre Berni et Bunny. Ce serait donc moi ce lapin grotesque en habit de Monsieur Loyal avec son panier d'œufs sur lit de foin. Mes grands yeux voient le monde, mais sont essentiellement tournés vers l'intérieur, vers la création. Mais je ne suis pas seul, je suis accompagné d'un être aimé qui favorise l'éclosion de l'art, mais reste discrète. Ce serait donc ça le sens de cette image, une déclaration d'amour. Mais il se peut encore que le véritable sens de ce collage ne soit un appel au public , l'artiste voulant être aimé pour ce qu'il lui apporte, tout en sachant combien cette demande est vaine.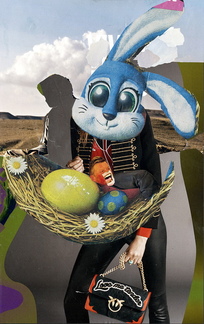 http://stephanus.com/_data/i/galleries/2017/216-xx.jpg
At first glance, it is a nostalgic collage: a silhouette is cut out on the background like the ghost of a loved person - unless it evokes a presence ... And this blue rabbit that ostensibly wears this statement printed on his bag: love me tender - undoubtedly a quote from the Elvis song that is a request for love. He has his head in the clouds and his eyes are turned inward. In any case, love is blind and memories are vague. Fortunately, there is this sneering character who mocks these songs! Remains the promise of a future blossoming, of a new story represented by the eggs. What is funny here is that my classmates called me Bunny after reading an English text with a rabbit as a hero - I was 8-9 years old - probably because of the resemblance between Berni and Bunny. So it would be me this grotesque rabbit in Monsieur Loyal's coat with his basket of eggs on hay bed. My big eyes see the world, but are essentially turned towards the interior, towards creation. But I am not alone, I am accompanied by a loved one who favors the emergence of art, but remains discreet. So that would be the meaning of this picture, a love declaration.  But it may be that the true meaning of this collage is an appeal to the public, the artist wanting to be loved for what he brings to him, knowing how vain is the call.