Warning
: "continue" targeting switch is equivalent to "break". Did you mean to use "continue 2"? in
/home/bstep754/public_html/blog/inc/plugins/model/_plugins_admin.class.php
on line
1467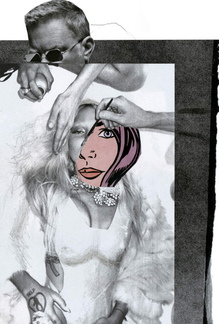 Looking at this collage again, a few days from its creation, I cannot refrain from making a connection with my mother. Indeed, her main concern seemed to present a perfect facade that was supposed to correspond to the current canons of her environment. Hence her terror of humidity that would make her hair curl, she would even force them into a hairnet to prevent them from betraying her exotic origin. Hiding behind an impeccable facade. Be undetectable. Was she not afraid that one of her friends could guess her origin as a pariah? Had not her own mother took the habit of hiding her yellow star under the back of her coat? Another aspect of this concern to succeed socially, to be like those of her environment is the fact that my father seems to have forced her to assume a role of social representation, not without her tears, according to their own statements. That means a double penalty. Already her own father was, as my half-sister told me, a real tyrant. Is happiness thus possible? Perhaps, but keeping a secret inner garden that grows out of sight. This, I think, has hardly been her case. And when she realized that I was going the opposite way from what her "life" was, she had to be worried, especially since her brother had been banned by her own father for being an actor, a painter and a communist. But she never told me. Thus I always imagined that she had a preference for my brother who, although being a rather difficult character, presented a smoother image in society, choosing the paternal path of business. In my own collages, the theme of the mask is recurring.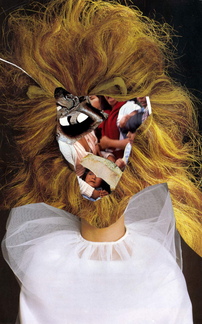 No doubt, because I never believed in the success of the maternal strategy. In any case, everybody "knew" her origins, curly hair or not. Assimilation was based on a lie - on both sides. For her, it was to disappear behind a mask, to act in a play. And the context has pulled it off and stigmatized her for her origins. It was only on the eve of her death that she told me that what she had loved above all, when she was young, was drawing. But, as I have written elsewhere, she never hung up any work of mine in her house - undoubtedly too personal in comparison with the engravings of Redouté roses which adorned the walls. Now, in hindsight, I have the impression that she was essentially a victim of her time and her bourgeois milieu, and even of her marriage, in which the sensitivity and timid aspirations of a young Jewish woman weren't encouraged.
En regardant ce collage une nouvelle fois, à quelques jours de sa création, je ne peux pas m'empêcher de faire un lien avec ma mère. En effet, sa préoccupation principale semblait avoir été de présenter une façade parfaite qui était censée correspondre aux canons en vigueur de son milieu. D'où sa terreur de l'humidité qui faisait friser ses cheveux, allant jusqu'à les forcer dans un filet pour les empêcher de trahir son origine exotique. Se cacher derrière une façade impeccable. Etre indétectable. N'avait-elle pas peur qu'une de ses amies puisse deviner son origine de paria ? Sa propre mère n'avait-elle pas pour habitude de cacher son étoile jaune sous le revers de son manteau ? Un autre aspect de ce souci de réussir socialement, d'être comme celles de son milieu est le fait que mon père semble l'avoir forcée à assumer un rôle de représentation sociale, non sans pleurs, selon leurs propres dires à eux deux. C'est la double peine en sorte. Déjà son propre père était, selon ma demi-sœur un véritable tyran. Le bonheur est-il possible ainsi ? Peut-être, mais en gardant un jardin intérieur secret qu'on cultive à l'abri des regards. Or cela n'a guère été son cas, il me semble. Et quand elle s'est aperçue que je prenais le chemin inverse de ce qu'était sa « vie », elle a dû être inquiète, d'autant plus que son propre frère avait été banni par son propre père pour avoir été acteur, peintre et communiste. Mais elle ne me l'a jamais dit. Du coup, je me suis toujours imaginé qu'elle avait une préférence pour mon frère qui, bien qu'étant plutôt caractériel, présentait une image plus lisse en société, choisissant la voie paternelle des affaires. Dans mes propres collages, le thème du masque est récurrent.
Sans doute, parce que je n'ai jamais cru à la réussite de la stratégie maternelle. De toute façon, tout le monde « savait » quelles étaient ses origines, cheveux frisés ou pas. L'assimilation était basée sur un mensonge – de part et d'autre. Chez elle, c'était de disparaître derrière un masque, de jouer dans une pièce de théâtre. Et le contexte lui a ôté celui-ci et l'a stigmatisée pour ses origines. Ce n'est qu'à la veille de sa mort qu'elle m'a confié que ce qu'elle avait aimé par-dessus tout, jadis, quand elle était jeune, c'était le dessin. Mais, comme je l'ai écrit ailleurs, jamais elle n'a accroché la moindre œuvre à moi chez elle – trop personnel sans doute par rapport aux gravures de roses Redouté qui ornaient les murs chez nous. Maintenant, avec le recul, j'ai l'impression qu'elle a été essentiellement victime de son époque et de son milieu bourgeois, voire de son mariage où la sensibilité et les aspirations timides d'une jeune femme juive ne trouvaient guère d'encouragements.