Warning
: "continue" targeting switch is equivalent to "break". Did you mean to use "continue 2"? in
/home/bstep754/public_html/blog/inc/plugins/model/_plugins_admin.class.php
on line
1467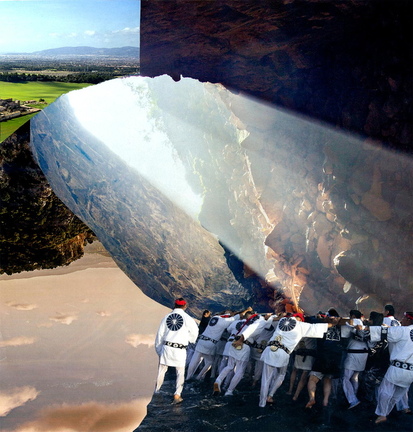 The bigger picture.

This collage started from the desire to overthrow the landscape. The idea came to me quickly, and then the rest followed quite easily with some minor adjustments (the characters to the left or right side, the landscape at the top left or not?). But I knew immediately that this collage was successful.
It is only after having done it that I measured what I had done. Here, no memory or fantasy, but a reflection on the vanity of human actions. I think of all the discussions and reports on the climate where man is referred to as quasi single actor, while I find man very small - even in the multitude - against the forces of nature and in relation to the universe. But I also see that the characters turn away from a fertile landscape and pick on a rock, even if the light gap might suggest a way out.
Question: Am I becoming a  symbolist , an illustrator  or a nostalgic (Gustave Doré painted pictures that I feel close to my collage, I still remember seeing very large paintings with very interesting light effects ) ? Answer: Whatever. The image is successful or not. That's all. And I'm glad I could do it. Because by making one or several collages daily, I rely on inspiration, I cannot plan, I improvise depending on what I find . The result is random. And I love it.
Ce collage est parti du désir de renverser le paysage. L'idée m'est venue rapidement, puis le reste a suivi tout seul à force de quelques ajustements (les personnages à gauche ou à droite, le bout de paysage en haut à gauche oui ou non ?). Mais j'ai su tout de suite que ce collage était réussi.
Ce n'est qu'après l'avoir fait que j'ai mesuré ce que j'avais fait. Ici, point de souvenir  ni de fantasme, mais une réflexion sur la vanité des actions humaines. Je pense à toutes les discussions et rapports sur le climat où l'homme est désigné comme quasi seul acteur, alors que je le trouve bien petit – même dans la multitude – face aux forces de la nature et par rapport à l'univers. Mais j'y vois aussi que les personnages se détournent d'un paysage fertile et s'acharnent sur un rocher, même si la trouée lumineuse pourrait suggérer une issue.
Question : Suis-je devenu symboliste, illustrateur, nostalgique (Gustave Doré a peint des tableaux que je sens proches de mon collage, je me rappelle encore d'avoir vu des tableaux très grands avec des effets de lumière très intéressants) ? Réponse : Peu importe. L'image est réussie ou pas. Voilà tout. Et je suis content d'avoir pu la faire. Car en faisant un à plusieurs collages par jour, je dépends de l'inspiration, je ne peux rien planifier, j'improvise selon ce que je trouve. Le résultat est aléatoire. Et j'aime ça.