Warning
: "continue" targeting switch is equivalent to "break". Did you mean to use "continue 2"? in
/home/bstep754/public_html/blog/inc/plugins/model/_plugins_admin.class.php
on line
1467
No, my art will not please to enthuse the crowds. This takes away the desire to always create new experiences for the public. My joy to experience is stronger than all that.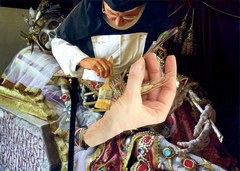 Thus the no. 290. Starting with a mummified saint, I had the idea to paste a huge hand holding a sprig of wheat. Then I played with the idea of entering a woman's leg in this hand, but without the visual effect that satisfies me. It is by seeing by chance a picture of nuns that I took the magazine to fall on the image I needed. I naturally thought of my stay in Oberstdorf/Bavaria in 1946, a children's home run by religious Dutch Protestant nuns, and my recent stay at the Geneva hospital. Moreover, I thought of a friend, P., whose health is so desperate that I evoked his death in myself. And finally, this image also reminds my brother, who died last December and who, during the various manipulations done by other persons, threw me mocking looks like the death in this collage. There the gesture of the nun seems positive, in contrast to my own experiences. It is here only a removing of dust or putting a glaze as if it were a good cake. The dead is half hidden by the woman sending his amused gaze at the audience. That reconciles me a bit with the idea of inevitable death - that of my family like mine: I have already exceeded my 75 years of almost five months and I'm at a race against time to build my work.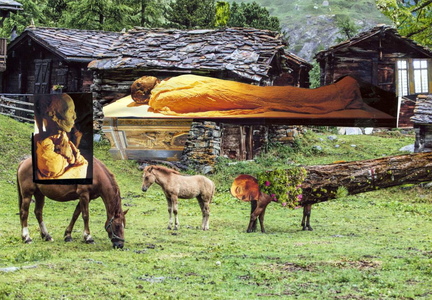 Another aspect of this concern is in the No. 281, which provides a tranquil and spiritual image of death. It is the passage that I wanted to express, but without melodrama, in a very sober way, thinking of the Buddhist masters, of transformation, although personally I am no believer. It is a soothing and comforting representation that masks the violence of death.
Non, mon art ne plaira pas au point d'enthousiasmer les foules. Cela m'enlève le souci de créer toujours de nouvelles sensations pour le public. Ma joie d'expérimenter est plus forte que tout cela.
Ainsi le no. 290. Parti d'un saint momifié, j'ai eu l'idée de le munir d'une immense main tenant un brin de blé. J'ai ensuite joué avec l'idée de faire saisir une jambe de femme par cette main, mais sans effet visuel qui me satisfasse. C'est en voyant par hasard une photo de bonnes sœurs que j'ai saisi le magazine pour tomber enfin sur l'image qu'il me fallait. J'ai évidemment pensé à mon séjour à Oberstdorf (Bavière) en 1946, home pour enfants tenu par des religieuses protestantes hollandaises, ainsi qu'à mon séjour récent à l'hôpital de Genève. Par ailleurs, j'ai pensé à un ami, P., dont l'état de santé est si désespéré que j'ai évoqué sa mort en moi-même. Et enfin, cette image évoque aussi mon frère, décédé en décembre dernier et qui, pendant les différentes manipulations de tierces personnes, me lançait des regards moqueurs comme le mort dans ce collage. Là, le geste de la religieuse me semble positif, contrairement à mes propres expériences. Il n'est ici qu'un dépoussiérage voire un glaçage comme s'il s'agissait d'une bonne brioche. Le mort étant à moitié caché par la femme envoie son regard amusé au spectateur. Voilà qui me réconcilie un peu avec l'idée de la mort inéluctable – celle de mes proches comme la mienne : j'ai déjà dépassé mes 75 ans de presque 5 mois et je fais une course contre la montre pour bâtir mon œuvre.
Un autre aspect de cette préoccupation se trouve dans le no 281, qui donne une image tranquille et plus spirituelle de la mort. C'est le passage que j'ai voulu exprimer, mais sans mélodrame, de manière très sobre, en pensant aux maîtres bouddhistes, à la transformation, même si personnellement, je n'y crois pas. C'est une représentation apaisante et consolante qui masque la violence du décès.