Warning
: "continue" targeting switch is equivalent to "break". Did you mean to use "continue 2"? in
/home/bstep754/public_html/blog/inc/plugins/model/_plugins_admin.class.php
on line
1467
J'ai fait cette image après un scanner du rein supposé vérifier s'il n'y avait pas de récidive. La nuit d'avant, n'excluant pas une mauvaise nouvelle et mon épouse m'ayant dit ne pas vouloir que je la quitte, j'avais imaginé ce que cela pouvait signifier de devoir se séparer de ceux qu'on aime, devoir les laisser. Dans le collage, les rôles sont apparemment inversés : la famille s'en va et l'homme reste là à fermer la portière du bus pour qu'ils puissent partir. Et pourtant c'est lui qui est censé partir. Je pense que l'image montre que le mouvement continue pour les vivants, alors que pour le mourant tout va se figer. Il est impuissant dorénavant, il ne peut plus s'immiscer dans la vie de ses proches. C'est cela son désespoir qui se manifeste dans un cri. Au fond, tout s'écroule, comme dans le décor de mon collage où cet écroulement est traduit de manière littérale. Et devant, le voyage de la vie continue, sans lui.
Bon, je dirai ce soir que ce moment n'est pas encore arrivé, mais à 76 ans, on ne peut guère faire des plans sur la comète, il faut être plus modeste et goûter les infimes bonheurs du quotidien partagé avec ceux qui nous sont chers. Et s'ils ne sont pas là pendant un moment, ils ne tarderont pas à revenir, j'en suis sûr.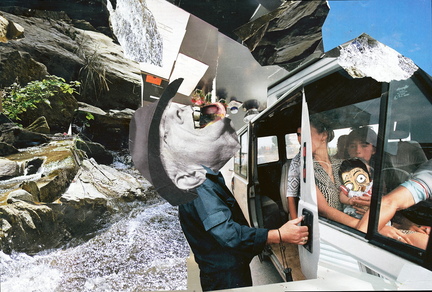 English translation
I made this image after a kidney scan supposed to check if there was no recurrence. The night before, not excluding bad news, and my wife having told me not wanting me to leave her, I had imagined what it meant to be separated from those we love, to let them. In the collage, the roles are apparently reversed: the family leaves and the man stays there to close the door of the bus so that they can leave. And yet it is he who is supposed to leave. I think the image shows that the movement continues for the living, whereas for the dying everything will freeze. He is impotent from now on, he can no longer interfere in the lives of his relatives. This is his despair, which is manifested in a cry. In fact, everything collapses, as in the setting of my collage where this collapse is translated literally. And in the foreground, the journey of life goes on without him.
Well, I will say tonight that this moment has not yet arrived, but at 76 years, we can hardly make plans on the comet, we must be more modest and taste the tiny joys of everyday, shared with those we love. And if they're not there for a while, they'll be back soon, I'm sure.