Warning
: "continue" targeting switch is equivalent to "break". Did you mean to use "continue 2"? in
/home/bstep754/public_html/blog/inc/plugins/model/_plugins_admin.class.php
on line
1467
Aujourd'hui, un collage où j'ai l'impression d'avoir été audacieux. J'ai voulu introduire un élément incongru, dessiné, relativement plat dans un espace profond, tout en donnant du sens à l'ensemble.
Je suis parti de l'idée d'utiliser les figures de la Danse de Matisse qui, par ailleurs, ne sont pas totalement plats. Il y a en effet des ombres dans les têtes par ex. et les lignes suggèrent le volume. Après un découpage aux petits ciseaux j'ai choisi un fond dont ne subsiste pas grand-chose, mais qui évoque les victimes de l'attentat de Nice. Après, les morceaux se sont ajoutés l'un après l'autre jusqu'à ce que le thème se précise : deux mondes, reliés par des gens qui courent en haut de l'image.
Ce que je trouve intéressant, c'est l'apparent désordre dans l'image dans sa partie gauche – en fait on dirait presque l'origine des fuyards, à droite, est plus tranquille que le monde dans lequel ils débarquent, si l'on fait abstraction de ce qui se passe à Alep. Ici, j'ai plutôt pensé à l'hécatombe en Méditerranée, aux traversées périlleuses etc. Mais d'autres associations sont également possibles comme par ex. les images de vie tranquille et l'agitation, le fait d'essayer de surmonter tous les obstacles et l'échec de certains qui tombent en masse, les tenues des hommes et des femmes…
Je vois cette composition assez grande, dans les 4m de long env., l'espace réduit du collage ne lui permet pas de se déployer comme je le voudrais. A toi, spectateur, de faire le travail en imagination.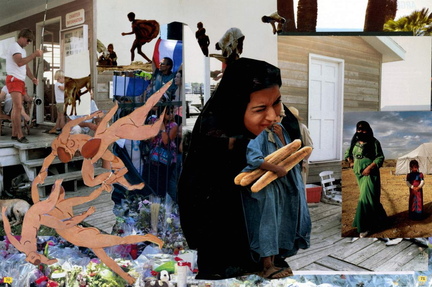 Today, a collage where I feel I have been bold. I wanted to introduce an incongruous element -drawn, relatively flat -  in a deep space, while giving meaning to the whole.
I started from the idea of using the figures of Matisse's Dance, which, moreover, are not completely flat. There are indeed shadows in the heads eg. and lines suggest volume. After cutting out the figures with small scissors I chose a background that does not remain much, but evoking the victims of the attack in Nice.  After the pieces were added one by one until the theme became precise: two worlds, connected by people running at the top of the image.
What I find interesting is the apparent disorder in the image on its left side - in fact it's almost like the origin of the fugitives, on the right, is quieter than the world in which they land, if we ignore what is happening in Aleppo. Here I rather thought of the carnage in the Mediterranean, the perilous crossings etc. But other associations are also possible as such:  quiet life images and agitation, the fact of trying to overcome all the obstacles and the failure of some falling en masse, the way men and women are dressed ...
 I see this as a rather large composition of 4m approx., the reduced space of the collage does not allow it to unfold as I would like. It's up to you, the viewer, to do the job in imagination.