Warning
: "continue" targeting switch is equivalent to "break". Did you mean to use "continue 2"? in
/home/bstep754/public_html/blog/inc/plugins/model/_plugins_admin.class.php
on line
1467
I like to watch my compositions from afar to judge their effect. In the past, when I was still painting, I used a mirror that I held in my hand. What difference does it make? In this image, the details fade and the image becomes vaguer, like a landscape of the 19th century. It is by approaching me that I discover the details, often incongruous, which do not stick. See the change before your eyes! A zoom effect to the point that I imagined the central character, who is seen from the back, setting out to join the crowd or the horizon. For it is necessary to get out of there to reach more serene countries than this devastation that reminds me of my hometown in 1945. Things are done and dismantled before our eyes and I tell myself that I constitute a stable point in all this.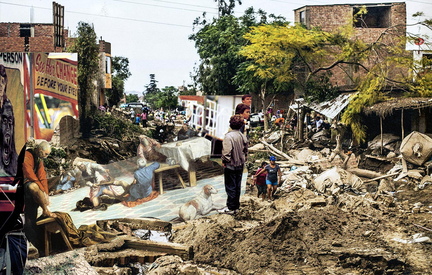 An amusing aspect in this scene is the fragment of the Foot Painting painted by Tintoretto which fits so well into my composition. But far from myself any religious connotation, I took this piece only to pose a counterpoint to the devastation and to show the agitation of men. The comparison stops there, because it would be very pretentious to compare a work of more than 5m wide to a 42cm collage. I find, however, some analogies in the composition of space and in the setting. Except that with me, the beautiful order of Tintoretto has cracked and man has to fend for himself in a more chaotic world. The Renaissance ideal of a vanishing point towards an arc of triumph leads in my collage to an uncertain and dangerous destiny.

Je me plais à regarder mes compositions de loin pour juger de leur effet. Dans le passé, quand je peignais encore, j'utilisais un miroir que je tenais à la main. Quelle différence cela fait-il ? Dans cette image, les détails s'estompent et l'image devient plus vague, comme un paysage du XIXe s. C'est en me rapprochant que je découvre les détails, souvent incongrus, qui ne collent pas. See the change before your eyes! Un effet de zoom au point que je me suis imaginé le personnage central, qui est vu de dos, se mettre en marche pour rejoindre la foule ou l'horizon.  Car il faut bien sortir de là pour atteindre des contrées plus sereines que cette dévastation qui me rappelle ma ville natale en 1945. Les choses se font et se défont sous nos yeux et je me dis que je constitue un point stable dans tout cela. Un aspect amusant dans cette scène est le fragment du Lavement des pieds peint par le  Tintoret qui s'intègre si bien dans ma composition. Mais loin de moi toute connotation religieuse, je n'ai pris ce morceau que pour poser un contrepoint à la dévastation et pour montrer l'agitation des hommes. La comparaison s'arrête là, car il serait bien prétentieux de comparer une œuvre de plus de 5m de large à un collage de 42cm. Je trouve cependant quelques analogies au niveau de la composition de l'espace et de la mise en scène. Sauf que chez moi, la belle ordonnance du Tintoret s'est lézardée et l'homme doit se débrouiller dans un monde plus chaotique. L'idéal renaissant d'un point de fuite vers un arc de triomphe dans mon collage mène vers une destinée incertaine et dangereuse.