Warning
: "continue" targeting switch is equivalent to "break". Did you mean to use "continue 2"? in
/home/bstep754/public_html/blog/inc/plugins/model/_plugins_admin.class.php
on line
1467
Last night, animating an evening on the theme of vulnerability, I began this collage thinking of an assault I suffered one night, many years ago, on a bridge in Geneva. I had been stabbed in the corner of my eye - fortunately without gravity, and pushed over the safety slide on the deserted roadway My collage showed a face, young, in tears and blood, with white hair. I said that I wanted to show that the aggressions suffered are impregnated in the memory and that the age did nothing there.
In resuming the image today, I tried to link this episode to other "aggressions" suffered during the last 6 years, namely operations. Knife and scalpel merge in front of a suffering and anxious body.
Of course, I do not find myself in this picture: it feeds on childish tears, the adult having learned throughout the years to conceal his fears, to banish them in a corner of his consciousness where the magic of collage has come to seek them for the need of expression.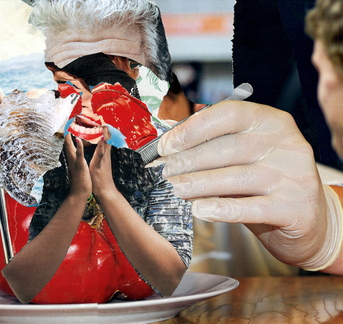 Hier soir, animant une soirée sur le thème de la vulnérabilité, j'ai commencé ce collage en pensant à une agression que j'ai subie une nuit, il y a bien des années, sur un pont de Genève. J'avais reçu un coup de couteau dans le coin de l'œil -sans gravité heureusement et basculé par-dessus la glissière de sécurité sur la chaussée déserte. Mon collage montrait un visage, jeune, en pleurs et en sang, avec des cheveux blancs. J'ai dit que je voulais montrer que les agressions subies s'imprègnent dans la mémoire et que l'âge n'y faisait rien.
En reprenant l'image aujourd'hui, j'ai cherché à relier cet épisode à d'autres « agressions » subies au cours des 6 dernières années, à savoir des opérations. Couteau et scalpel fusionnent face à un corps souffrant et angoissé.
Bien entendu, je ne me retrouve pas tel quel dans cette image : elle se nourrit des pleurs enfantines, l'adulte ayant appris au long des années à dissimuler ses craintes, à les bannir dans un coin de sa conscience où la magie du collage est venue les rechercher pour le besoin de l'expression.