Warning
: "continue" targeting switch is equivalent to "break". Did you mean to use "continue 2"? in
/home/bstep754/public_html/blog/inc/plugins/model/_plugins_admin.class.php
on line
1467
These days, my collages are transformed from top to bottom during their elaboration. The general idea is not there at the beginning, it comes only much later, in the process of my work. But, it's the result that counts and nothing else.
What is obvious in the present collage is the relationship between the two standing figures and their position in relation to the other figures. I wanted to highlight here a compassionate element, charity, compared to a cynic who laughs at these efforts to relieve misery. But I also had in mind the ancient prophets whose speech was not always heard. What is the use of exhortations to more humanity – I think for example of the book published by my friend editor Markus Haller: The White Man' Burden - if they are not heard or applied wrongly? I am thinking of some politicians - here or on the other side of the Atlantic - whose clown dress would fit them very well, but that would bring me too close to caricature, and I do not want to become an entertainer on every day and event. The bridge, which rests on a weak pillar, tries precisely to represent a passage between the harsh reality and the generous utopia.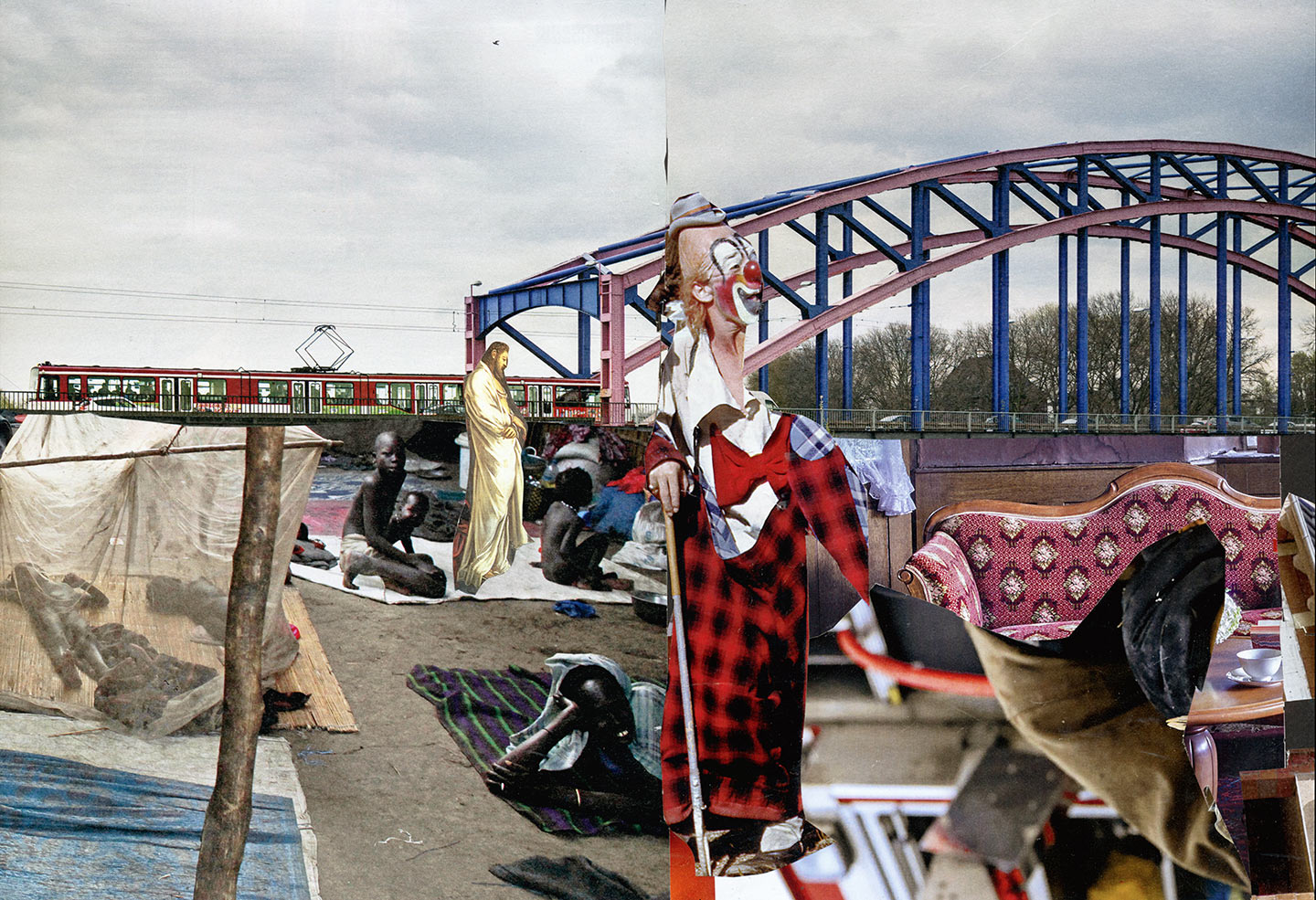 enlarge
Le prophète
Ces temps, mes collages se métamorphosent de fond en comble pendant leur élaboration.  L'idée générale n'est pas là au départ, elle ne vient que bien plus tard, au fil de mon travail. Mais, c'est le résultat qui compte et rien d'autre.
Ce qui saute aux yeux dans le présent collage, c'est la relation entre les deux personnages debout et leur position par rapport aux autres figures. J'ai voulu ici mettre en lumière un élément compassionnel, de charité, par rapport à un cynique qui se rit de ces efforts pour soulager la misère.  Mais j'ai également eu en tête les prophètes anciens dont la parole n'a pas été toujours entendue. A quoi servent les exhortations à plus d'humanité - je pense par exemple au livre paru chez mon ami éditeur Markus Haller : Le fardeau de l'homme blanc -  si elles ne sont pas entendues ou appliquées à tort et à travers ? Je pense aussi à certains hommes politiques – ici ou de l'autre côté de l'Atlantique - à qui l'habit de clown irait à merveille, mais cela me rapprocherait trop de la caricature, et je ne tiens pas à devenir un amuseur au fil des jours et des événements. Le pont, qui repose sur un pilier peu solide, tente justement de figurer un passage entre la dure réalité et l'utopie généreuse.