Warning
: "continue" targeting switch is equivalent to "break". Did you mean to use "continue 2"? in
/home/bstep754/public_html/blog/inc/plugins/model/_plugins_admin.class.php
on line
1467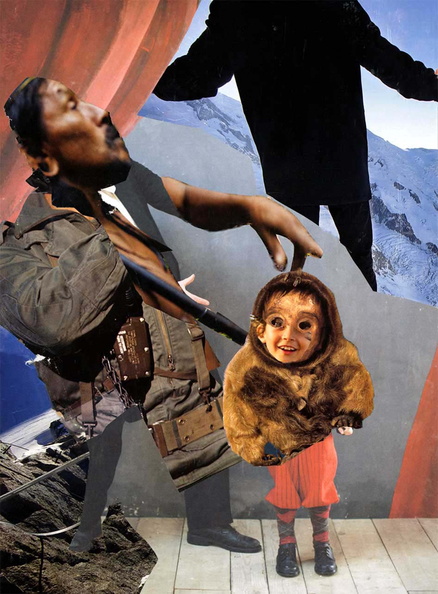 for a bigger picture click here
The original image featured a magician and a little boy on a stage surrounded by a red curtain. I was attracted by the pale and very small child on the front of the stage. Part of a Greenland mummy transforms the boy. The magician becomes a kind of hunter, but I have highlighted the dangerous side with a coat of hunter / soldier . Then I put a piece of a child's face on the head of the mummy so it comes back to life. The boy looks stunned and amazed. Unhappy with the decor which reminds me the compositions of Magritte, I opt for a radical transformation by pasting the image of a silhouette that seems to go into space in a mountain setting .
Following a comment from my friend M., I link to my own story. The little boy is a little me arriving in Switzerland in 1947, crossing alone the customs in Basel with my suitcase. Customs opened it on the train platform even among the crowd and out of my stuff takes out a windup tin clown, which starts walking on the platform among the travelers. Behind me, very far, is Germany and further there my parents and my brother which are not of the journey. Anyway, they do not have the right to leave the British occupation zone. Without doubt I experienced a kind of vertigo that time! Somebody is waiting for me on the other side, but I do not know who it is. And years later, when I had settled down in Switzerland I have seen so many immigrants with their suitcases on the train platform in Geneva and I resented this always quite strongly.
Le rideau rouge.
L'image de départ figurait un magicien et un petit garçon sur une scène bordée d'un rideau rouge. J'ai été attiré par cet enfant pâlichon et bien petit sur le devant de la scène. Une partie d'une momie groenlandaise transforme le petit garçon. Le magicien devient une sorte de chasseur, mais j'ai accentué le côté dangereux par un habit de chasseur/militaire. Puis j'ai mis un bout de visage d'enfant sur la tête de momie de sorte à la faire revenir à la vie. Le garçon semble ahuri ou émerveillé. Peu satisfait du décor qui me rappelle trop les compositions de Magritte, j'opte pour une transformation radicale en y collant l'image d'une silhouette qui semble aller dans le vide dans un décor de montagne.
Suite à un commentaire de mon ami M., je fais le lien avec ma propre histoire.  Le petit garçon, c'est un peu moi arrivant en Suisse en 1947, traversant la douane à Bâle avec ma valise tout seul. Le douanier ouvre celle-ci sur le quai de gare même parmi la foule et sort mes affaires dont un jouet à ressort, un clown qui, remonté, se met à marcher sur le quai parmi les voyageurs.  Derrière moi, très loin, se trouve l'Allemagne et encore plus loin il y a mes parents et mon frère qui ne sont pas du voyage. De toute façon, ils n'ont pas le droit de quitter la zone d'occupation britannique. Sans doute ai-je été saisi d'une sorte de vertige à ce moment-là ! Je suis attendu de l'autre côté de la frontière, mais je ne sais pas par qui. Et plus tard, quand j'ai habité la Suisse définitivement, j'ai vu tant d'immigrés avec leurs valises sur le quai de la gare de Genève et je ressentais ce spectacle toujours assez fortement.