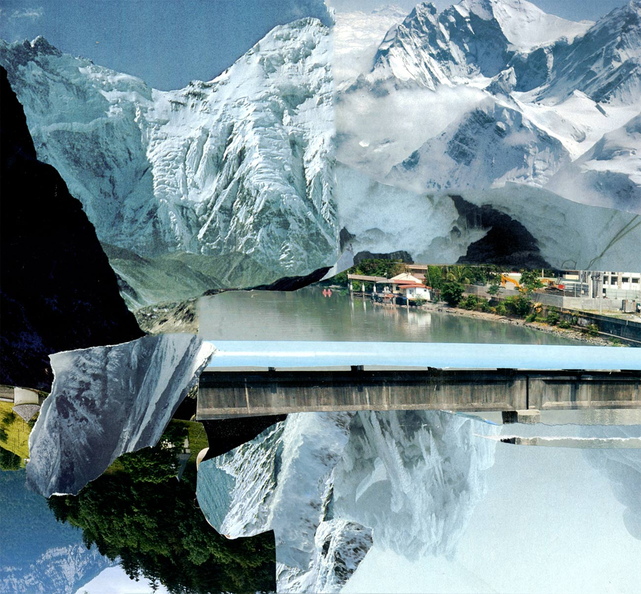 THE LAKE
It's very interesting what happened to me through this picture: I first wanted to create a unique effect by turning the image and creating a vertigo effect. This should have been a reflection in the water. But I thought it necessary to add a small climber because, originally, there was already one that was upside down. I wanted to refer to Chinese painters. But the picture became unstable and spatially ambiguous, without being it frankly. I think I will come back to this in order to experiment a bit on it. My modification has turned the image into more logical landscape in appearance: vertigo is more hold back, the inconsistency between the top and the bottom reflection is more hidden and overflow of water makes the picture threatening.
Conclusion:
The character was too small because it was anecdotal and made the image too  narrative.
The relationship between the top and bottom was not sufficiently worked.
The new image is more consistent, but the vertigo is lost.
I'll have to come back to it  because the subject is very interesting, especially here in Switzerland where there is a long tradition of alpine painting that I know well since I translated an illustrated book in German on this subject.
What is my vertigo to me? I'm subject to vertigo effect and this is twice now that I fell off a ladder (the last time quite violently scratching my back on more than 20 cm). But it is mostly an existential vertigo I cannot cure.
LE LAC
C'est  très intéressant ce qui m'est arrivé à travers cette image : j'ai tout d'abord voulu créer un effet inédit en tournant l'image et en créant un effet de vertige. Cela aurait dû être un reflet dans l'eau. Mais j'ai cru nécessaire d'y ajouter un petit alpiniste parce que, originellement, il y en avait déjà un qui se trouvait la tête en bas. J'ai voulu faire allusion aux peintres chinois.  Mais l'image est devenue instable et ambigüe spatialement, sans l'être vraiment franchement. Je pense que je vais y revenir d'ailleurs pour expérimenter un peu là-dessus. Mon intervention a transformé l'image en paysage plus logique en apparence : le vertige est plus contenu, l'incohérence entre le haut et son reflet en bas est davantage masqué et le débordement de l'eau rend l'image menaçante.
Conclusion :
Le petit personnage était en trop, car il était anecdotique et rendait l'image trop narrative.
La relation entre le haut et le bas n'était pas suffisamment travaillée.
La nouvelle image est plus cohérente, mais le vertige est perdu.
Il faudra que j'y revienne car le sujet est très intéressant, surtout ici en Suisse où il y a une longue tradition de peinture alpestre que je connais bien puisque j'ai traduit un ouvrage illustré en allemand sur ce sujet.
Quel est mon vertige à moi ? Je suis en effet sujet au vertige et cela fait deux fois maintenant que je suis tombé d'une échelle (la dernière fois assez violemment en m'écorchant le dos sur plus de 20 cm).  Mais il s'agit surtout d'un vertige existentiel dont je n'arrive pas à me guérir.