Warning
: "continue" targeting switch is equivalent to "break". Did you mean to use "continue 2"? in
/home/bstep754/public_html/blog/inc/plugins/model/_plugins_admin.class.php
on line
1467
Walls
Ce collage à l'aspect décousu mérite quelque investigation. La division horizontale de l'image se fait par la chute d'eau et les murs. D'un côté l'enfant qui essaie de voir et de l'autre les adultes dans la fosse. Leur taille surdimensionnée est soulignée par les autres personnages, beaucoup plus petits. On pourrait imaginer que l'enfant veut jeter un regard sur le monde des adultes qui lui est caché. Ou encore qu'il s'agit de personnes du passé, enterrées, qui le hantent. Mais alors, les grimpeurs, à gauche, seraient en train de ressusciter. Et l'eau qui descend figurerait le mouvement inverse. Je ne sais pas. Je m'y perds.  Car il y a encore un mouvement d'avant en arrière, figuré par le chemin (?) qui va vers l'horizon et son point de fuite, et d'arrière en avant, quand on regarde les marcheurs qui vont buter sur la muraille du premier plan. La paroi de gauche fait écho à un autre collage « The Ark » qui figurait une paroi semblable mais en tant que bateau. Cela suggère une scène de fin du monde, avec tout ce que cela comporte de drames. J'aime bien cette interprétation, car elle explique l'eau qui descend du ciel et qui remplit la fosse. A droite, le monde est encore intact, bien que les gens semblent avoir compris la menace, alors qu'à gauche, ils luttent déjà pour leur survie. Et l'arche elle-même me semble peu apte à naviguer sur les flots. Illusion d'échapper au désastre ?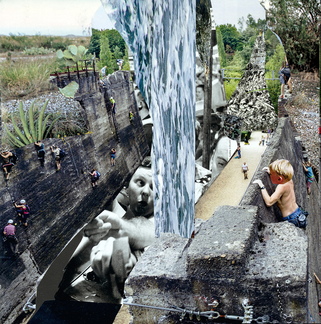 http://stephanus.com/_data/i/galleries/2017/158-xx.jpg
This collage which seems to be chaotic deserves some investigation. The horizontal division of the image is made by the waterfall and the walls. On one side the child who tries to see and on the other the adults in the pit. Their oversized size is underlined by the other characters, who are much smaller. One could imagine that the child wants to take a look at the adult world that is hidden from him. Or that they are people of the past, buried, who haunt him. But then, the climbers, on the left, would be resurrecting. And the water that descends would be the reverse movement. I do not know. I am confused. For there is still a movement back and forth, represented by the path (?) which goes towards the horizon and its vanishing point, and from back to front, when one looks at the walkers who are going to be stopped be the wall in the foreground.
The left wall echoes another collage "The Ark" that featured a similar wall but as a boat. This suggests a scene from the end of the world, with all that entails dramas. I like this interpretation because it explains the water that comes down from the sky and fills the pit. On the right, the world is still intact, although people seem to have understood the threat, while on the left, they are already fighting for their survival. And the ark itself seems unlikely to navigate the waves. Illusion of escaping disaster?