Warning
: "continue" targeting switch is equivalent to "break". Did you mean to use "continue 2"? in
/home/bstep754/public_html/blog/inc/plugins/model/_plugins_admin.class.php
on line
1467
Another collage that arose I do not know how. This animal which climbs on the steps while turning into a dog, it leaves its wild condition to seek human affection. Is it an anticipated dependency, a quest for affection, an aspiration towards a beyond? Around this beast a lacerated world: I saw a lot of images of Alaska, no doubt it is a reminiscence. And a few hours later, the penny has dropped: Goya's dog!
Guido Ceronetti in A Handful of Appearances (1988) writes about Goya's painting: ... Sand or water, volcano ashes, a dream void, in every expression of cosmic voracity, of the nameless abyss, where one is seized by the feet and pulled down, where one sinks endlessly, or who aspires and covers slowly, and draws from the throat the desperate invocation, the powerful cry of Psalm 130: De profundis clamavi ad te, Domine - that is where Goya placed his dog, ... the depths where we dwell.
My collage does not seem so dramatic: the expression of the dog is optimistic, I would say that it wants to achieve something, that it sees an opportunity. I think also of the song of Iggy Pop: A machine for loving which illustrates well this desire to love and to be loved.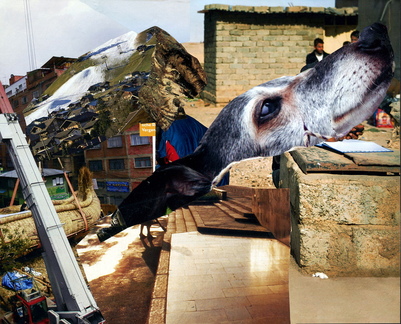 Encore un collage qui a surgi je ne sais comment. Cette bête qui se hisse sur les marches tout en se transformant en chien quitte sa condition sauvage pour quérir l'humain. Est-ce une dépendance anticipée, une quête d'affection, une aspiration vers un au-delà ? Autour de cette bête, un monde lacéré : j'ai vu pas mal d'images de l'Alaska, sans doute est-ce là une réminiscence. Et quelques heures après, the penny has dropped :  le chien de Goya !
Voilà ce qu'en dit Guido Ceronetti dans Une poignée d'apparences (1988): …  Sable ou eau, cendres de volcan, vide onirique, en chaque expression de la voracité cosmique, de l'abîme sans nom, où l'on est saisi par les pieds et tiré en bas, où l'on s'enfonce sans fin, ou qui aspire et recouvre lentement, et tire de la gorge l'invocation désespérée, le cri puissant du psaume 130: De profundis clamavi ad te, Domine – c'est là que Goya a placé son chien, … les profondeurs où nous habitons.
Mon collage ne me semble pas si dramatique : l'expression du chien y est optimiste, je dirais qu'il veut réussir, qu'il en entrevoit la possibilité. Je pense aussi à la chanson d'Iggy Pop : A machine for loving qui illustre bien ce désir d'aimer et d'être aimé.