Warning
: "continue" targeting switch is equivalent to "break". Did you mean to use "continue 2"? in
/home/bstep754/public_html/blog/inc/plugins/model/_plugins_admin.class.php
on line
1467
C'est une vue d'une caverne éventrée. Il y a beaucoup de monde. Un personnage tient, par le fil, une ampoule allumée qui éclaire la main d'un géant – Polyphème ? Il a deux yeux pourtant. Est-ce que la lumière n'éclaire pas plutôt les personnages en train de dégringoler dans la neige ? J'ai l'impression d'avoir fait une image à l'instar de mes préoccupations du moment, à tenter de jeter de la lumière sur l'histoire de ma famille maternelle. Je n'en connais que des bribes, mes parents n'aimaient guère évoquer le temps du nazisme et des persécutions, les fuites et les déportations. Et moi, je n'étais pas assez curieux pour demander, questionner. J'essaie donc d'y voir un peu plus clair aujourd'hui. Avec internet, je peux glaner des bribes d'informations, même si c'est bien peu.
A regarder mon image maintenant, j'y vois un peu ce qui est arrivé à cette famille : fuyant une catastrophe (la Russie tsariste des pogromes) et arrivant dans un pays qui va les prendre au piège : l'Allemagne, à l'instar des personnages qui s'écroulent au premier plan.
Comment préserver la lumière ? Comment vivre dans les ruines d'une civilisation ? Je me retrouve, pour finir, dans le personnage géant qui, comme Jérémie, se lamente sur les ruines de Jérusalem.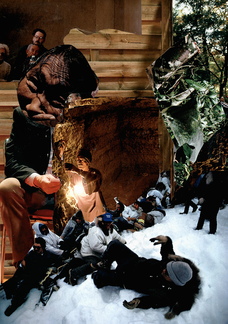 It is a view of a ripped open cavern. There are a lot of people. A character holds, by the wire, a lighted bulb which illuminates the hand of a giant - Polyphemus? He has two eyes though. Does not the light shine on characters tumbling in the snow? I feel I have made an image about my current concerns, trying to shed light on the story of my maternal family. I only know bits and pieces, my parents did not like to talk about Nazism and persecution, flight and deportation. And I was not curious enough to ask, to question. So, I'm trying to get a little clearer today. With the internet, I can glean bits of information, even if it is very little.
Looking at my image now, I see a little what happened to this family: fleeing a catastrophe (Tsarist Russia pogroms) and arriving in a country that will trap them: Germany, like the characters crumbling in the foreground.
How to preserve the light? How to live in the ruins of a civilization? Finally, I find myself in the giant figure who, like Jeremiah, laments the ruins of Jerusalem.