Warning
: "continue" targeting switch is equivalent to "break". Did you mean to use "continue 2"? in
/home/bstep754/public_html/blog/inc/plugins/model/_plugins_admin.class.php
on line
1467
The collage is like a kiss: the meeting of two foreign elements that must, however, have affinities. It is thus not the die-cuts which make a collage, but their assembly. This could be tedious and not very creative, like a rhyme like "night - right," but it is to create surprises, so the unexpected. It is not for nothing, it seems, that Herta Müller, the great writer of German language - agglutinative language par excellence, thus "agglutinative" -  whose compound words are very surprising, also creates collages. To do this, simply combine the elements as the famous surrealist definition of the chance encounter on a dissecting-table of a sewing-machine and an umbrella, while seeking an overall sense of the resulting image, in order to avoid scattering the meanings.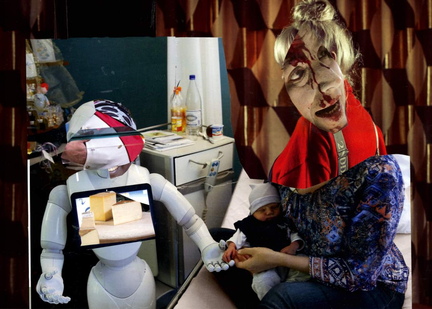 Collage 439/16  is typical for my current research to create a "cubist" space where different elements have their own space and dimension, while remaining interconnected. There is no logical justification for the passage between the relatively flat brown background and space dug behind the robot. The separation is clear, arbitrary, like a spontaneous cut of scissors. Yet, the image seems likely.
No 435/16 is the most extreme in this regard, as it opposes color and black and white, clear and fuzzy, full and empty, untouched and open.  No. 408/16 marks a significant step in this research.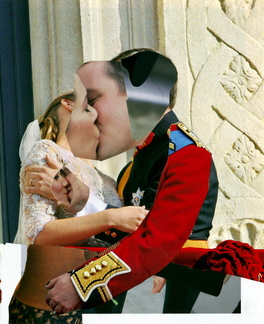 To return to the kiss (no. 420/16), it sums up my artistic concerns of the moment. Don't we say in French that one "embraces" a career? That's how I see my relationship with the collage anyway.
 Le collage, c'est comme un baiser : la rencontre de deux éléments étrangers qui doivent cependant présenter des affinités. Ce n'est donc pas le découpage des formes qui fait le collage, mais leur assemblage. Cela pourrait être fastidieux et peu créatif, à la manière d'une rime du genre « amour – toujours », mais il s'agit de créer des surprises, donc de l'inattendu. Ce n'est pas pour rien, il me semble, que Herta Müller, la grande auteure de langue allemande – langue agglutinante par excellence, donc « colleuse » - dont les mots composés sont surprenants, crée aussi des collages. Pour cela, il suffit d'associer les éléments  - selon la célèbre définition surréaliste de la rencontre fortuite sur une table de dissection d' une machine à coudre et d' un parapluie - , tout en cherchant un sens global à l'image résultante, pour ne pas éparpiller les significations.
Le collage 439/16 (French robot) est typique de mon actuelle recherche qui vise à créer un espace « cubiste » où les différents éléments ont leur propre dimension et espace, tout en restant interconnectés. Il n'y a pas de justification logique du passage entre le fond brun relativement plat et l'espace creusé derrière le robot. La séparation est nette, arbitraire, comme un coup de ciseaux spontané. Et pourtant, l'image me paraît vraisemblable.
Le no 435/16 (Getting enhanced) est plus extrême à cet égard, vu qu'il oppose couleur et noir et blanc, net et flou, plein et creux, intact et ouvert. Le no. 408/16 (Open mind) marque une étape dans cette recherche. 
Pour revenir au baiser (no. 420/16, Royal kiss), il résume bien mes préoccupations artistiques du moment. Ne dit-on pas en français qu'on « embrasse » une carrière ? C'est comme cela que je vois ma relation avec le collage en tout cas.