Warning
: "continue" targeting switch is equivalent to "break". Did you mean to use "continue 2"? in
/home/bstep754/public_html/blog/inc/plugins/model/_plugins_admin.class.php
on line
1467
I do not know how old I am, but I'm still small. My brother is five years older than me. We receive the visit of the doctor coming to vaccinate us against smallpox, I think. My brother bare torso - is he standing or sitting, I do not know any more - and the doctor shoves a long needle of a large syringe in his breast. He grimaces, complains .The next to suffer this torture will be me. Fortunately my memory stops there as in a nightmare.
What relationship with today? No doubt the current situation of my bedridden brother, whose words are for the most inconsistent and who requires daily care which involve manipulations that he does not like to judge his grimaces.
The victim is him. What a turnaround for him, who out of jealousy, beat me, denigrated me and later gave me some filthy blows from behind my back. The victim, now is no more me. It is true that I stopped being his victim t a long time ago, thanks to a therapy that led me to write him a letter describing what he had made me suffer. But I remain a victim anyway, because you do not erase the past. But you can relativize.
The collage only illustrates that the feable can be subjected to the strong, like the Middle Age paintings describing in great detail the torture of martyrs. In this, these painting are truer than the idyllic representations of paradise. And I have not forgotten these paintings hanging in the museum of the city of my youth and which s impressed me so much by their truth and expressive density. And I imagine that inside my brother there is a very small child who is afraid and tries to reconcile with everyone by being kind, as if the disease had delivered him from his demons , except when being manipulated. He then make a face, says "ouch" and makes me like a wink, as if to say: It does not matter, but I'd love to be master of myself, but I know it is impossible, that's why I do the child.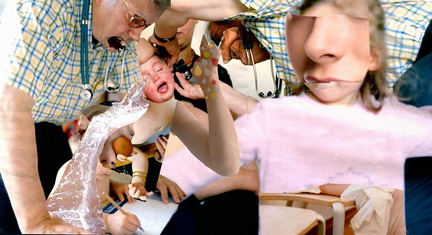 Je ne sais pas quel âge j'ai, mais je suis encore petit. Mon frère a 5 ans de plus que moi. Nous recevons la visite du médecin venu nous vacciner contre la variole, je crois. Mon frère a le torse dénudé – est- il debout ou assis, je ne sais plus – et le le docteur lui enfonce une longue aiguille de grosse seringue dans le torse. Il grimace, se plaint .Le prochain à subir cette torture sera moi. Heureusement que mon souvenir s'arrête là comme dans un cauchemar.
Quel rapport avec aujourd'hui? Sans doute l'actuelle situation de mon frère grabataire, dont les paroles sont pour la plupart incohérentes et qui nécessite des soins quotidiens qui impliquent des manipulations qu'il n'apprécie guère à juger de ses grimaces.
La victime, c'est lui. Quel retournement pour lui, qui par jalousie, me battait, me dénigrait et, plus tard me faisait quelques coups pendables en douce. La victime, c'est dorénavant lui, plus moi. Il est vrai que j'ai cessé d'être sa victime il y a fort longtemps, grâce à une thérapie qui m'a amené à lui écrire une lettre décrivant ce qu'il m'avait fait subir. Même si je reste sa victime malgré tout, car on n'efface pas le passé. Mais on peut le relativiser.
Le collage ne fait qu'illustrer ce que le fort peut faire subir au faible, à la manière des peintures moyen-âgeuses décrivant avec force détails les tortures subies par les martyrs. En cela, cette peinture-là est plus vraie que les représentation idylliques du paradis. Et je n'ai point oublié ces tableaux du musée de la ville de ma jeunesse et qui m'ont tant frappé par leur vérité et leur densité expressive. Et j'imagine qu'à l'intérieur de mon frère il y a un enfant tout faible qui a peur et qui essaie de se réconcilier avec tout le monde en se montrant aimable, comme si la maladie l'avait délivré de ses démons, sauf quand on le manipule. Il fait alors la grimace, dit « aïe » et me fait comme un clin d'oeil, comme pour me dire : Ce n'est pas grave, mais j'aimerais tant être maître de moi-même, mais je sais que c'est impossible, alors je fais l'enfant.