Warning
: "continue" targeting switch is equivalent to "break". Did you mean to use "continue 2"? in
/home/bstep754/public_html/blog/inc/plugins/model/_plugins_admin.class.php
on line
1467
Encore une image venue par hasard. C'est en travaillant sur une figure debout que j'ai voulu changer complètement de direction en retournant le collage. C'est alors que la publicité pour une montre que j'avais sous la main m'a fait immédiatement penser à Masaccio et aux représentations du Christ en majesté dans la peinture florentine. Mais en même temps, j'ai pensé à l'Ecce homo. L'or renvoie aux icônes, d'où le titre Icon. Mais il est évident que cette image religieuse qui rappelle les Christ en majesté, montre des atteintes au plan physique, dues au temps qui passe et qui anéantit tout, mais figurées aussi par cette main qui agresse et qui veut atteindre le cœur du personnage qui a peur. Je ne peux m'empêcher de penser au sort des Chrétiens d'Orient et à leurs églises détruites ou tout simplement aux personnes qui sont victimes de persécutions. L'ordre harmonieux et parfait figuré par les cercles se fracture, car il n'est qu'idéal et ne saurait durer dans la réalité. D'ailleurs, on pourrait imaginer que le bas représente une paroi de catafalque et que le corps n'est qu'une apparition, un peu comme les corps des saints que l'on expose dans les églises catholiques. Et quand je vois l'image dans la pénombre à quelques mètres de distance, elle change du tout au tout, devenant une sorte de relief abstrait !
Je suis très surpris par cette image venue de nulle part et par sa présence obsédante, tragique – j'ai l'impression de n'avoir été que l'exécutant d'un projet qui s'est révélé en collant !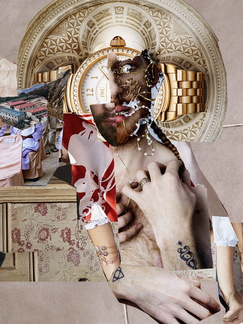 enlarged
Another image came by chance. It was while working on a standing figure that I wanted to change direction by turning over the collage. It was then that the advertisement for a watch I had at hand made me immediately think of Masaccio and the depictions of Christ in majesty in Florentine painting. But at the same time, I thought about the Ecce homo. Gold refers to the icons, hence the title Icon. But it is evident that this religious image, reminiscent of Christ in majesty, shows physical impairments, due to the passing of time which annihilates everything, but also represented by this hand that attacks and wants to reach the heart of the character who shows fear. I cannot help but think of the fate of the Christians of the Middle East and their destroyed churches or just the people who are the victims of persecution. The harmonious and perfect order represented by the circles breaks, for it is only ideal and cannot last in reality. Besides, one could imagine that the bottom represents a wall of a catafalque and that the body is only an apparition, much like the bodies of the saints exposed in the catholic churches. When I see the image in the darkness, a few meters away it completely changes, becoming a kind of abstract relief!
What is even more troubling is that the image when I see it in dim light, a few meters away changes completely, becoming a kind of abstract relief!
I am very surprised by this image coming from nowhere and by its haunting, tragic presence - I feel like I was only the performer of a project that turned out while I was gluing