Warning
: "continue" targeting switch is equivalent to "break". Did you mean to use "continue 2"? in
/home/bstep754/public_html/blog/inc/plugins/model/_plugins_admin.class.php
on line
1467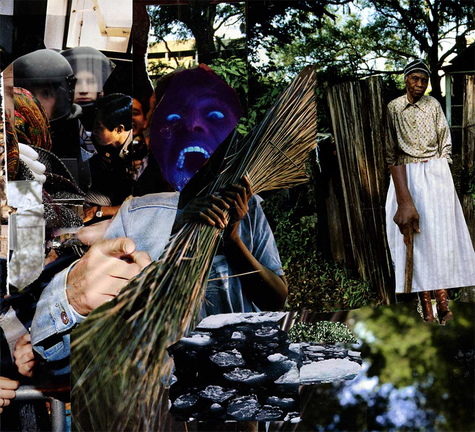 I worked hard on this collage, even if it is done in one session. I needed time to find a "story" and consistency (I always want to create a united picture, despite the disparate elements) . What I quickly found is the woman at the right side, even though I changed it a little later. I thought of peace that emanates from this bucolic part and I remember now the simplicity of my nanny, even if she was of much stronger constitution. It was she who took care of me and my brother during a long time, until she retired. To the left is the tumult of helmeted policemen, Ukrainians, I think. Before, rising from the landscape, the blue grinning devil points his finger at the viewer. He holds a sheaf of grain (?): This can only be myself, the sheaf, is my heap of collages, my laughter is the cartoonist who I am and the pointed finger is supposed to challenge the viewer. The background characters introduce themselves impulsively in my pictures; this is the world in its more or less agitated course. I do not have the wisdom or the resignation of the old woman who recedes to the background because she has stopped trying to influence the world. It is my ultimate future, but in the meantime I do not want to fall into sentimentality, repetition, copying myself, but continue to surprise me with dreamlike images.
(for a bigger picture, click here)
J'ai travaillé intensément ce collage, même s'il s'est fait en une seule séance.  J'ai mis du temps à trouver une « histoire », une cohérence (j'ai toujours le souci de créer une unité, malgré les éléments disparates). Ce que j'ai assez vite trouvé, c'est la femme à droite, même si je l'ai changé un peu par la suite. J'ai pensé à la tranquillité, la paix qui émane de cette partie bucolique et je pense en ce moment à la simplicité de ma nounou, même si celle-ci était de constitution nettement plus forte.  C'est elle qui s'est occupé de mon frère et moi  longtemps, jusqu'à ce qu'elle prenne sa retraite. A gauche, c'est le tumulte : des policiers casqués ukrainiens, je crois. Devant, surgissant du paysage, ce diable bleu ricanant qui pointe son doigt sur le spectateur. Il tient une gerbe de céréales  ( ?) : ce ne peut qu'être moi-même, la gerbe, ce sont mes collages, mon rire est celui du caricaturiste que je suis et le doigt pointé est censé interpeller le spectateur. Les personnages du fond s'introduisent de manière impulsive dans mes images, c'est le monde dans son cours plus ou moins agité. Je n'ai pas encore la sagesse ou la résignation de la vieille femme qui recule vers le fond, car elle a cessé de vouloir agir sur le monde. C'est mon avenir ultime, mais en attendant, je ne veux pas tomber dans la mièvrerie, la répétition, la copie de moi-même, mais continuer à me surprendre par des images oniriques.